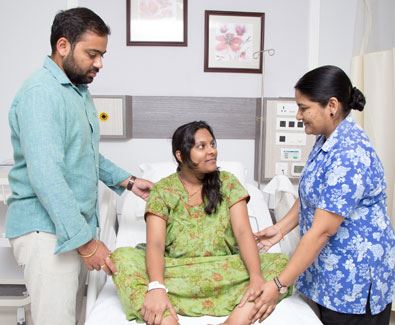 Who is a Midwife?
A midwife is a person who has successfully completed a midwifery education programme that is based on the ICM Essential Competencies for Basic Midwifery Practice and the framework of the ICM Global Standards for Midwifery Education and is recognized in the country where it is located; who has acquired the requisite qualifications to be registered and/or legally licensed to practice midwifery and use the title 'midwife'; and who demonstrates competency in the practice of midwifery- ICM.
Scope of Practice of The Midwife
The midwife is recognised as a responsible and accountable professional who works in partnership with women to give the necessary support, care and advice during pregnancy, labour and the postpartum period. This care includes preventative measures, the promotion of normal birth, the detection of complications in mother and child, the accessing of medical care or other appropriate assistance and the carrying out of emergency measures.
Why India Needs Midwifery?
The Lancet series (2014) notes that 87% of services can be provided by midwives. A Cochrane review on "Midwife-led continuity models vs other models of care for childbearing women" (2016) provides evidence that midwife-led continuity of care can result in a 24% reduction in pre-term birth, a significant reduction in C-section, episiotomy, instrumental birth or use of pain relief while increasing psychological support for women. Countries like Sweden and Srilanka backed midwifery by investing heavily in midwifery care along with a good referral system.
---
Our Journey
Pregnancy and childbirth are a normal physiological process in a woman's life. Fernandez Hospital is committed to helping women enjoy this special journey surrounding birth.
To meet this objective the Hospital began a Professional Midwifery Education and Training (PMET) Programme in 2011 to produce a cadre of competent, confident and skilled midwives. This special taskforce would help deliver simple safe, affordable care to low risk mothers in the community. Our ultimate aim is to reduce maternal mortality and morbidity. From August 2011 to December 2019 our Midwives have helped birth 11609 women.
In 2014, the Indian Nursing council granted 10 seats to start Post Basic Diploma in Nurse Practitioner Midwifery (NPM) to Fernandez School of Nursing. The first batch started in November 2018.
The Government of Telangana requested Fernandez Foundation to train a batch of 30 nurses as "Professional Midwives". The training programme was for a duration of 18months.It was initiated in 2017 with the support of UNICEF and successfully completed in 2019.
The Government of India(GOI) took a landmark policy decision to roll out " Midwifery Services" in the country inorder to improve the quality of care and ensure Respectful care to pregnant women and newborn.
Nurse Practitioner Midwifery (NPM) Educator programme was initiated by GOI on November 6th 2019. Fernandez Foundation was recognised as one of the National Midwifery Training Institute . A cohort of 30 postgraduate nurses from 5 states i.e; Andhra Pradesh, Karnataka, Maharashtra, Orissa and Uttar Pradesh are undergoing 6months of intensive residential training at our institute.